If you're looking for a place to call home in the near future, consider Eastport. Our lovely town is situated on the East Coast and is ripe with opportunity. You'll fall in love with Eastport's charming seaside atmosphere and friendly people. There's always something going on in our vibrant community, and you'll never be bored here! Eastport is a great place to put down roots and start a family. We have excellent schools, parks, and recreation facilities. And, of course, who could resist our superb seafood? If Eastport sounds like the right place to call home, or if you are considering selling Eastport or other Annapolis property, you'll want to know what the market is expected to be like in 2023. In this blog post, we'll take a closer look at what's happening in the Eastport housing market and give you an idea of what to expect.
Why choose Eastport

As part of Annapolis, people are drawn to Eastport not only for the amenities of the larger city but for its location on the harbor, Restaurant Row, the Naval Academy, and the Annapolis Maritime Museum. The Annapolis area is also home to annual events like one of the East Coast's most popular Renaissance Festivals, the Military Bowl, the United States Powerboat Show, the United States Sailboat Show, the state's seafood festival, and an international film festival.
With the
National Premier Soccer League (NPSL)
coming to the Annapolis area in 2023, Eastport can expect increased sports fan activity, which traditionally equates to more investment in local businesses and even an increase in the local population as people move closer to their favorite team. The NPSL is a semi-professional soccer league with teams all over the country, and Annapolis will be home to one of its newest teams, with a name yet to be announced.
Annapolis is almost equidistant from both Baltimore, MD, and Washington, D.C., so its residents have the best of both worlds. They can easily commute to either city for work or play and be back in time for dinner. For example, they can catch a Caps game in D.C. or take the kids to The Maryland Zoo in Baltimore. The location also makes it a great place if you enjoy the arts since major musicians come to both cities, so it is well worth the approximately 30-mile drive to catch your favorite performer live.
Furthermore, the cost of living in Annapolis, MD, is
21% lower than in Washington, D.C
., which makes it a very attractive option for people who work in the city but want to live somewhere with a lower cost of living. With so much to do, and a lower cost of living than in D.C., it's no wonder people are clamoring to live in Eastport!
Market trends and predictions
With the
mortgage rate rising
from 3.1% to nearly 6% over the past six months, buyers may want to purchase sooner rather than later to lock in a lower rate. However, while rates are increasing, they're still relatively low compared to the historical average of around 8%. Even though the rate is rising, the market is still on track to favor sellers in 2023 for both Eastport and Annapolis.
Eastport, MD
Since January 2022, Eastport, MD, real estate has stayed
on the market
for under 60 days. Looking at the past five years of data, a conservative estimate predicts the days on the market to remain between 50-100 in 2023, which means sellers can expect to move from listing to accepted offer in between two and three months.
Since January 2022, the number of homes available for sale has increased from fewer than 20 to 132 in July 2022. The number of homes is rising after a steady overall downward trend since June 2019, with the fewest listed from July to December 2021. The number of homes available stayed in the low 130s in July and August 2022. If the trends over the last five years hold, the number of homes available should start steadily dropping for the remainder of 2022 before rising again in February and April 2023.
The median list price has been rather volatile from month to month, with the median rising and falling every few months for the past five years. However, in looking at the data as a whole, the prices have trended upwards, from a median of under $515,000 in September 2017 to a median of $604,520 as of July 2022. The highest median in the past five years occurred in July last year, at $767,000. As such, sellers should aim to list in the summer months if seeking the highest list price, but buyers should plan to purchase between November to March if aiming to buy at a lower price point.
Annapolis, MD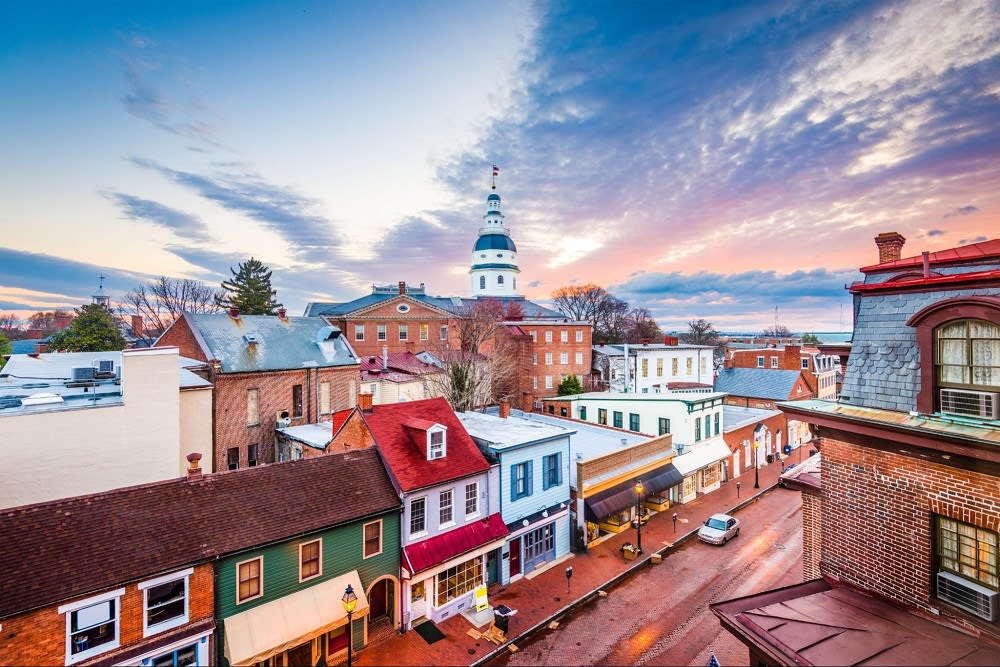 In looking at the Annapolis housing market as a whole, the
median home price
as of late September, 2022, was $477,555. The one-year outlook predicts a modest increase of under $10000 to $486,984, so buying may not be the right investment if planning to sell in under a year. However, the five-year outlook predicts an increase to $520,045, which is an over $40,000 increase. If you are buying in Eastport or Annapolis, you can expect solid growth on your investment if you retain ownership of the property for a minimum of five years.
Ready to work with The Tower Team to buy or sell Eastport real estate?
With a positive outlook for the Eastport real estate market in 2023, now may be the right time to start planning to buy or sell your home. If you're considering moving, contact
The Tower Team
for expert guidance on buying or selling in Eastport or other areas of Annapolis. The Tower Team is composed of experienced real estate professionals ready to help you navigate the market and find your perfect home. Contact one of the trusted agents at The Tower Team today to get started!